MAKING (IN) THE UNFORESEEN RESEARCH FESTIVAL
Willem de Kooning Academy hosted the Research Festival, Making (in) the Unforeseen in Rotterdam. The three-day festival, which took place on the 25th, 26th and 27th January, 2023, examined ideas and discourses around the concept of "the future" and how artists can "make space for the unforeseen".
The future may seem to have already arrived, but it is something that we make together, within the limitations of the present and the given.
The festival topic is a core concern, given the focus of research carried out at WdKA is interdisciplinary and practice based. The Research Center foregrounds experiments in making and new materials, the use of creative and self-designed methods, and the connection to education and collaborative practices.
The opening night, held at Het Nieuwe Instituut, saw a public talk given by Dr. Samaneh Moafi, Senior Researcher at Forensic Architecture, Goldsmiths University of London. Dr. Moafi talked of how she uses architectural techniques and technological applications to study human rights violations, state violence and ecological destruction. The meeting was moderated by researcher Setareh Noorani of Het Nieuwe Instituut.
The Thursday saw the WDKA Conference Day at the Willem de Kooning Academy, Wijnhaven building, where Research Center students, lecturers and researchers presented their work. All photos courtesy of Florian Cramer.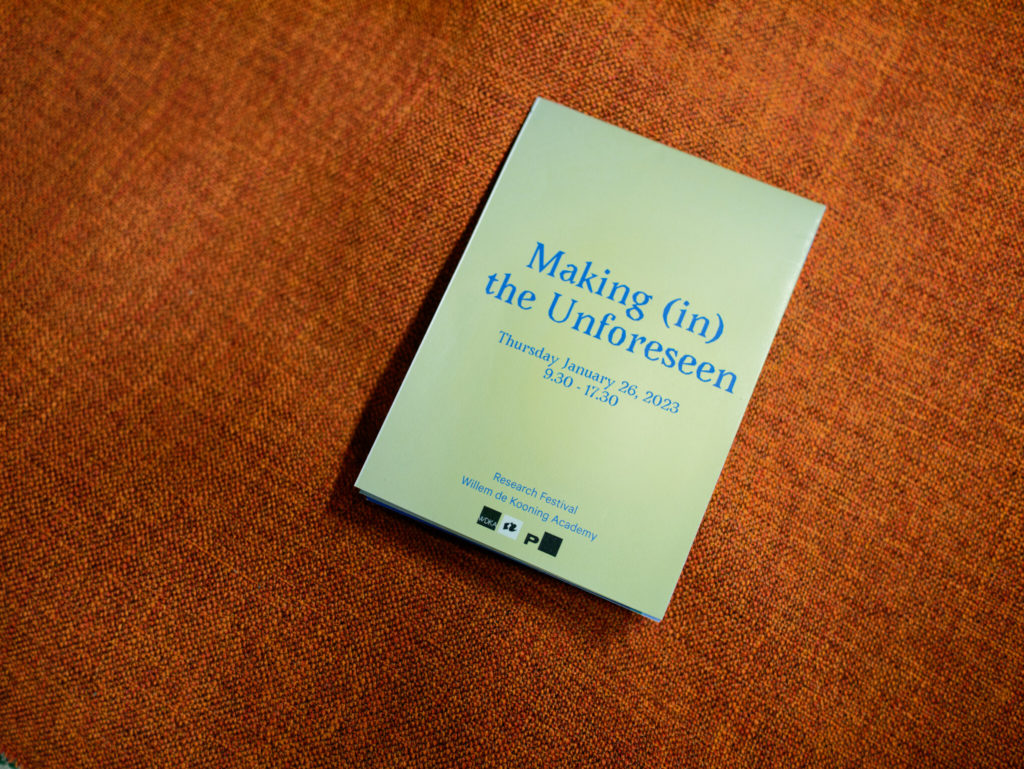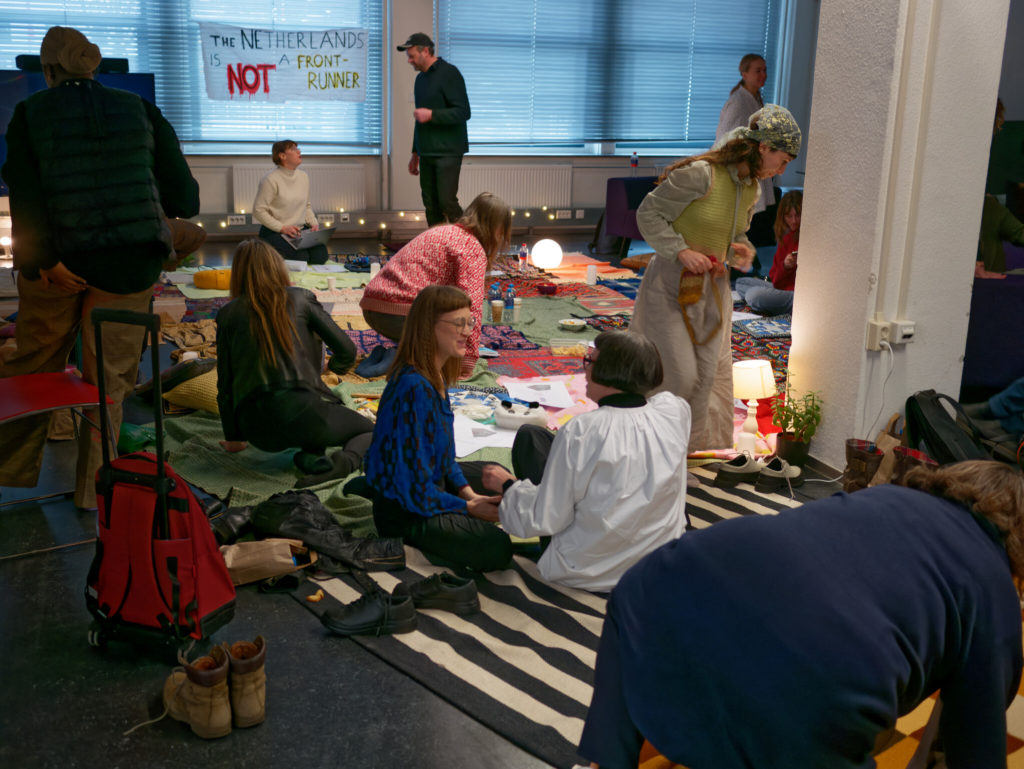 The closing day, Friday, saw the Graduation Kick-off Workshop Day, for 4th year students. This was held in the Willem de Kooning Academy, Wijnhaven building
Doing research is very important for every maker at WdKA, especially during the graduation period. The Kick-off Workshop Day – including a ZOOMIN, films, workshops by recently graduated alumni, interviews and panel discussions – focused on the different approaches to research and the different results gleaned from these approaches. Its aim was to offer practical strategies to get started, reflect, structure and how to communicate about research.
A detailed overview of the alumni workshops can be found below. These, and the full workshop programme, can be found on this PDF.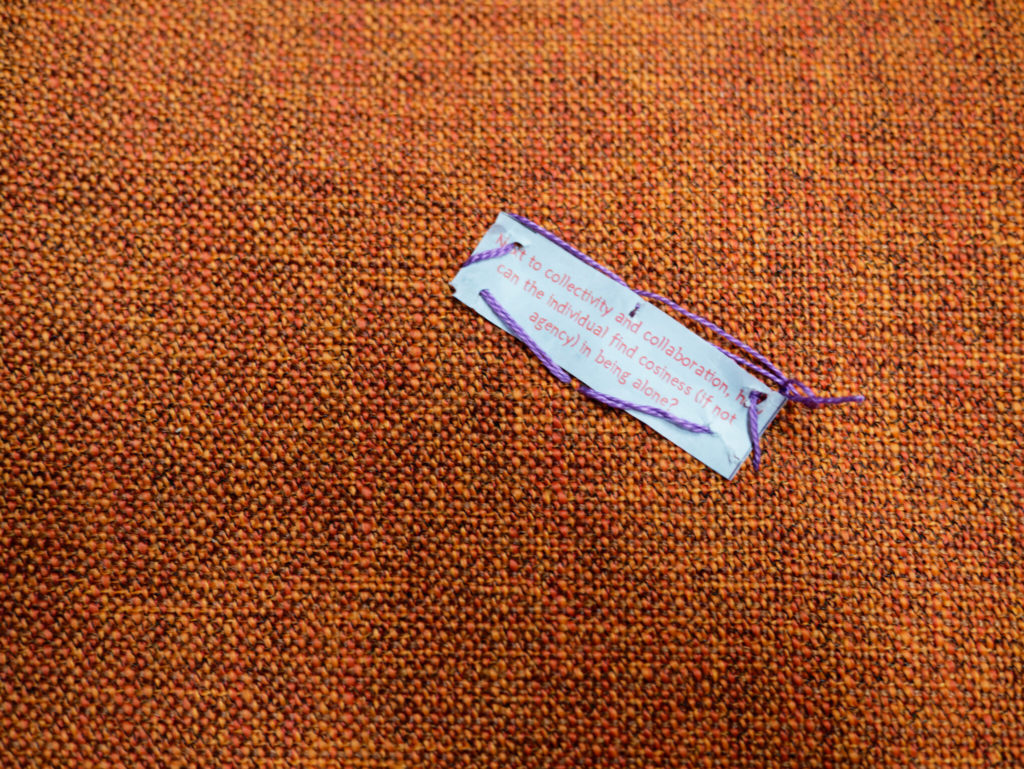 Workshops by Recently Graduated Alumni
Povilas Gegivicius – Exploring identity through accumulation of visuals and clothes
Fashion Design alumnus Povilas Gegevicius talked through the research done for his graduation project. For designing his collection it was essential for him to understand what people in 1990s Lithuania were thinking and feeling, and how they acted. Due to aesthetics of images found on the internet, Povilas had a very romantic view of that particular time frame. Therefore, he wanted to find out, through accumulating cultural stories and visuals, if life was actually similar to that view. Then, when he understood the reality of the 1990s creative and social limitations, he could put himself into a similar mindset of the time and create.
Julia Wilhelm – Autoarachnology
Julia Wilhelm's workshop was especially suited for students whose practices are ambiguous, difficult to define, and less concerned with producing artworks than with building up infrastructures and participating in processes. In the manner of the spider, we will be mapping out the nodes of our practices – the different projects, initiatives, and groups we are involved with. "By discussing the uestions, words, and topics that interconnect these nodes, we will trace the threads of our web."
Senka Milutinović – Reading and Absorption
"Reading Rhythms Club is an experimental nomadic reading group. We read in the rain/ in unison/ overeach other/ by whispering/ slowly/ you name it! All depending on the text and genre, from poetry to feminist sci-fi to album recordings, all frequencies are accepted here. For each session, we conspire with
invited guests to stir up fertile debris of literary rhythms. This happens in a variety of locations, from cultural spaces to gardens and park benches. For this session of Reading Rhythms Club, we will focus on slow reading and absorption of the text. Much like with other reading sessions, we will remain open towards the collective meandering the reading material might take us on. Collectively we will digest the text and try to detect our own experiences within this reading frenzy."
Rink Schelling – Materialisation and visualisation of ideas
"It's fairly easy to get stuck on the theoretical side of your project. How can the materialisation of ideas work constructively in forming a concept? Making a start is difficult enough, but 'making' is a good tool to help you get out of this rut. Is it possible to work intuitively in a project? How do you ensure a structured approach within the intuitive angle? In a short workshop, we'll be working towards the visualisation of your ideas, utilising material. We'll discuss how to reflect on this process and how this will work constructively with realising your project. In short, we'll be throwing your design, conceptualisation, research question, and materialization in the mix to see how they can come together in different orders."
Simone van der Meer and Yvonne Bronner – A workshop as research strategy
A workshop is not just to teach other people something. You can use a workshop within your artistic/design research. Sometimes you need other people to move forward in your research. Giving a workshop can be a good tool for this. A workshop provides interaction and encounters in which you can (collectively) arrive at new insights. So how do you ensure that a workshop actually brings you further in your research? In this workshop you will experience what a workshop as research can entail. Finally, you will work on your own research question and think about how you can use a workshop as part of your research.