| | |
| --- | --- |
| Date | 07/14/2023 |
| Time | 10:00 |
| Location | RASL Spaces, Hillevliet 90, Rotterdam. |
| Researchers | |
| Affiliated research project | |
SUPPORTING STRUCTURES: RE-IMAGINING WAYS TO WELLBEING THROUGH THE ARTS AND SCIENCES
APPLICATION DEADLINE is 17:00 on June 16, 2023
For how to apply, scroll down.
RASL (Rotterdam Arts & Sciences Lab) is pleased to announce its third annual Summer Studio. This year, the ten-day transdisciplinary workshop is hosted in collaboration with Zuid.Boijmans Van Beuningen.
Both RASL and Zuid. Boijmans Van Beuningen are located at Hillevliet 90, a former technical school shared by many other institutions, organizations, artists, and initiatives. Hillevliet 90 is the main location for the Summer Studio, in which participants will collaborate in response to a brief from societal partners active in the building and surrounding neighborhoods: SOL (Samen Ondernemend Leren, a welfare institution) and the Feyenoord Stadsmarinier (promoting social cohesion).
In "Supporting Structures: Re-Imagining Ways to Wellbeing through the Arts and Sciences," we will explore and develop how working at the intersection of the arts and sciences, education, and social and community practice can provide supporting structures that promote wellbeing. Joining us in this exploration are Gemma Medina Estupiñàn and Alessandra Saviotti from the initiative Arte Útil, which "draws on artistic thinking to imagine, create and implement tactics that change how we act in society." At the end of the ten-day session, collaborative groups of participants will share their concepts, research, practices, and prototypes with each other, the facilitators, guests, and societal partners. The process and results of the Summer Studio will be shared at Dutch Design Week in October 2023.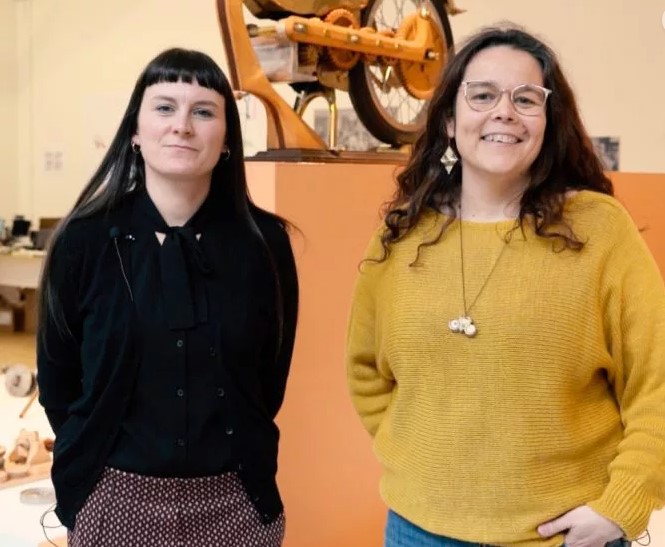 Image: Wendy Varela
Facilitators of the Summer Studio include: Dr Robin van den Akker (Erasmus University), Birgit van Beek (Boijmans), Dr Lisa Heinis (Boijmans), Arlon Luijten (Codarts), and Dr Vivian Sky Rehberg (Willem de Kooning Academy).
PRACTICAL INFORMATION AND HOW TO APPLY
Dates: 14 – 23 July 2023 (Monday July 17, no program).
Time: 10:00-18:00, with optional evening social moments.
Location: RASL Spaces, Hillevliet 90, Rotterdam.
Fee: Participation is free of charge, but spaces are limited, and we currently cannot offer funding for travel and living expenses. Refreshments are provided.
Applicants should have a BA, MA, or PhD in a relevant field, be entering their final year of a BA program, or have equivalent professional experience and backgrounds in the performing and visual arts and design, the sciences, humanities, and technology studies.
To apply, please submit a (written or audio-visual) motivation outlining how your research and practice intersects with the concerns of the Summer Studio and your CV (including website or portfolio links) to events@rasl.nu
We understand and respect that some participants need to schedule around their jobs and kin. Due to the collective nature of this full-time, intensive program, participation is required over the entire ten days during our working hours. Please indicate your availability, and whether you predict scheduling conflicts, in your application.
APPLICATION DEADLINE is 17:00 on June 16, 2023
We intend to notify applicants if they are accepted or wait-listed by June 23, 2023.