| | |
| --- | --- |
| Date | 05/15/2023 |
| Time | |
| Location | WdKA |
| Researchers | |
| Affiliated research project | |
The workshop was given by KAJET Journal's editors and publishers, Petrică Mogoș and Laura Naum to WdKA Autonomous Practices students, with their tutor Raluca Croitoru.
Petrică Mogoș and Laura Naum are working on the intersections of art education and practice, publishing, artistic research, and research production. KAJET, which appears yearly as a printed periodical, "emanated out of an urgent need to provide a platform for Eastern European narratives. Aiming to become a timeless archival document, KAJET gets its name from the Easternised version of the French cahier, meaning notebook. It embodies the ethos of KAJET: a textual & visual collection of thoughts, an assemblage of neglected narratives, a self-expanding string of reflections & perspectives, a perpetual work in progress of a history that keeps re-writing itself; essentially, a journal of Eastern European encounters". https://kajetjournal.com/about/
KAJET emphasizes alternative forms of knowing to counter the ongoing state of ruling misconceptions around Eastern Europe, and reimagining the configuration of the region. It is published by Dispozitiv Books, a publishing house and book shop in Bucharest (https://dispozitivbooks.com/shop/imagined-exchanges-2/) that offers publications on critical theory, contemporary art and politics. Sister projects are the publication The Future Of and the archive Camera Arhiva [https://cameraarhiva.com/] that collects and documents Romanian printed matters from the communist period. The site states that it "retrieves material traces and documents of communist everyday life, such as almanacs and journals, state periodicals and union-owned magazines, brochures and booklets, newspapers and pamphlets, posters and exhibition catalogues, fiction paperbacks and do-it-yourself manuals." [https://cameraarhiva.com/about/]
The project creates questions such as:
• Who owns an archive?
• Who decides what goes in and what doesn't belong to the archive?
• Who decides what the archive is not, and what it should not contain?
• What are the rules of classification, what is put to the front and pushed to the margins?
• Who is allowed to construct History, with capital "H"?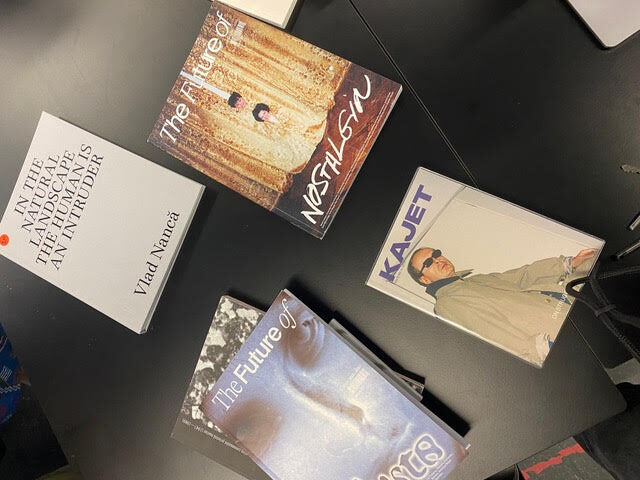 KAJET's projects deal with utopias and speculative thinking, imagining other futures as well as cancelled futures that need to be reclaimed. This is why the nostalgic project of Camera Arhiva corresponds to the utopian thinking in KAJET's other publications. Reclaiming nostalgia was first attempted in KAJET's second issue on "The Future of Nostalgia", which tried to reverse the negative framing of nostalgia as conservatism. Cancelled futures can be discovered in the archive: "Publishing the Future meant writing about the promise of emancipation, about the autonomous tradition, about the relation between humankind and technology, and these were themes that were present in the materials that we have archived". This included discussion of cosmology, robots, the space age, cyberculture, science fiction, information society and the future of the planet in Romanian printed matter from the communist period.
With their projects – the magazines, the archive – the collective tries to "document the existence of alternative narratives", without "succumbing to Western expectations, categories or taxonomies." The practice falls out of the selective canons of the art world/art history as well as of those of the publishing industry. "Art history remains, by and large, a Western history". These are interrupted histories that need to be reclaimed. The only way of fighting homogenizing narratives is to produce "alternative knowledges in the plural, as well as networking horizontally, on a transnational level".
Takeaways on Autonomy
Institutional and conceptual autonomy
KAJET and its sister projects deal with two types of autonomy: institutional autonomy and a conceptual understanding of autonomy. It tries to navigate both, which always entails compromises.
Institutional autonomy concerns the very practical question of how to be able to realize projects with minimum interference by institutions and other outside parties. This concerns funding in particular, namely: How to develop a practice, a publishing program, exhibitions, and other forms of cultural production through which you can speak and stay on your own path, while at the same time making sure that there are the necessary funds to do this?
KAJET only occasionally applies for funding depending on the degree to which the particular funding program allows or compromises the autonomy of the project: "How can we do our own thing without the pressure of changing our content by being influenced by external factors?" In Romania, there is a cultural funds financed by alcohol and cigarette taxes. Cultural organizations fight for it three times a year, but it has the advantage that it is known where the money comes from, and that it grants a comparatively high degree of autonomy to the projects that receive it. A counterexample is a publishing fund that dictates the sales prices of magazines and books, which ultimately means that publishers will not be able to sell them at self-sustaining prices and become structurally dependent on the funding.
KAJET's conceptual understanding of autonomy concerns its position in, and in relation to Eastern Europe. While it is a heterogeneous space, it is also one that has been conquered and appropriated, and one whose knowledge has been marginalized after the fall of communism.
The question is whether one can maintain an autonomous position when one is in a constant struggle that concerns power/cultural hegemony, for attention, for funding? KAJET has to compromise its autonomy, for example, by having to write in English and speak in English even now in front of the class. Does that invalidate the project? It never invalidates it completely. But it also means that KAJET's activities always need to come with a disclaimer: autonomy is always affected to some extent when you are not speaking your own language, but figuratively putting on a second skin.