| | |
| --- | --- |
| Date | 11/14/2023 |
| Time | 13:00 |
| Location | TBA – mail researchcommunity@hr.nl |
| Researchers | |
| Affiliated research project | |
Dinsdag 14 november
Beste onderzoeker, Onderzoekers zijn verbonden aan een kenniscentrum en komen daar collega onderzoekers tegen. Maar vanuit de wandelgangen weten we dat er een behoefte is aan onderling contact. En dan niet alleen binnen je eigen kenniscentrum, maar juist ook met andere kenniscentra. Daarom starten we met de Research Community: de plek waar alle onderzoekers elkaar kunnen ontmoeten en hun ervaringen kunnen uitwisselen!
Op dinsdag 14 november van 13.00 tot 14.30 uur bij Wijnhaven 107, lokaal H.5.404 (5e etage), nemen we Open Access onder de loep samen met drie interessante sprekers:
Arnaud Zwakhals (adviseur datamanagement onderzoek) 'Open Acces publiceren op de HR in de praktijk'
Patrick Sins (lector Leren) 'Spring in dat gat en zet gewoon je eigen open access tijdschrift op!'
Aymeric Mansoux (lector Commercial Practice) 'Too Many Licenses?!'
Meld je nog snel aan via deze link! Heb je vragen over of suggesties voor de Research Community, mail dan naar researchcommunity@hr.nl.
Doelen
-Faciliteren van de communicatie tussen onderzoekers uit verschillende kenniscentra, om onder meer kennisdeling en samenwerking te stimuleren.
-Versterken van de impact die onderzoek van onderzoekers kan hebben, zowel binnen de hogeschool als erbuiten.
-Stimuleren van de professionele groei van onderzoekers en het bieden mogelijkheden om hun professionele vaardigheden te ontwikkelen.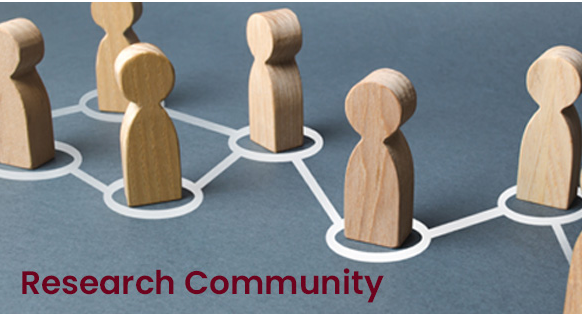 English
Dear researcher,
Researchers are affiliated with a knowledge center and meet fellow researchers there. But from we also know that there is a need for mutual contact. And not only within your own knowledge center, but also with other bodies. That's why we're starting the Research Community: the place where all researchers can meet each other and exchange their experiences.
On Tuesday, November 14 from 1:00 PM to 2:30 PM at Wijnhaven 107, room H.5.404 (5th floor) we will examine Open Access together with three interesting speakers:
Arnaud Zwakhals (data management research advisor) 'Open Access publishing on HR in practice'
Aymeric Mansoux (lecturer Commercial Practice) 'Too Many Licenses?!'
Patrick Sins (lecturer Learning) 'Jump in, and just set up your own open access journal!'
Register quickly via this link! If you have any questions or suggestions for the Research Community, please email researchcommunity@hr.nl. Goals
goals
-Facilitating communication between researchers from different knowledge centers, to stimulate knowledge sharing and collaboration.
-Strengthening the impact that researchers' research can have, both within the university and outside it.
-Stimulating the professional growth of researchers and providing opportunities to develop their professional skills.