| | |
| --- | --- |
| Date | 10/05/2023 |
| Time | 12:00 |
| Location | Auditorium Willem de Kooning Academy (WH.00.116) Wijnhaven 61, 3011 WJ Rotterdam |
| Researchers | |
| Affiliated research project | |
Praxis: Ethics of co-production

A screening of a selection of Edwin Mingard's collaboratively made film works, followed by discussion facilitated by Seecum Cheung.
Thursday 5th October 2023
Screening 12.00 – 13.00
Auditorium Willem de Kooning Academy (WH.00.116)
Wijnhaven 61, 3011 WJ Rotterdam
Workshop 14:30 – 17:00
Research Station (WH.00.316)
Wijnhaven 61, 3011 WJ Rotterdam
Mingard's work is a cinematic platform which places support and collaboration at the heart of its praxis. His films are a network of stories told from the margins of society, where collaborators (undocumented, homeless, or otherwise) are invited to create rich cinematic translations of their daily thoughts and experiences. By providing long-term committed support, equipment, training and guidance, Mingard generates a space for groups to share the stories of their lives through their own uniquely authored films.

Embedded into his filmmaking approach is a tailored process of careful ethics which informs the techniques used within his films. In this short screening and discussion, we will learn about some of these technical considerations, and how they lend themselves to the genre-breaking and collaborative nature of Mingard's work.
List of Films
"An Intermission" (Documentary, 22:22 mins, 2020)
At the centre of the project is an artists' film made in collaboration with a shifting group of young participants who have found themselves with no permanent place to call home.
The film's collaboratively-made soundtrack, Intermission Music, is released as an limited artists' edition run of 500 vinyl records with all profits going to young people who've experienced homelessness.

"H is for Hostile Environment" (Documentary, 20 mins, 2022)
H for Hostile Environment is a new moving image work made in collaboration with researcher Dr Keren Weitzberg. The work aims to invite those who have suffered under the UK's border regime to speak about their experiences, providing a space for otherwise marginalized narratives and celebrating the rich contributions of the UK's immigrant population to our shared social and cultural life.
The work comprises 26 sections, each made in collaboration with a partner whose first-hand experience of the issues uniquely inform the shaping of the work.

"The City Below" (Documentary excerpt, 05 mins, 2023 – Present)
A work-in-progress exploring the role of art in periods of social unrest. The work is being made in a collaborative way with multiple communities, including a group of young people who have been excluded from school, a network of artists who were shaking things up in the mid-80s, and an archive of radical identity-focused artmaking covering the period.

Workshop
Following the screening will be a workshop which engages the students in the process that Edwin uses within his own praxis. Equipment will be provided for the students to work in a way that considers ethics, co-production and working with groups and vulnerable issues.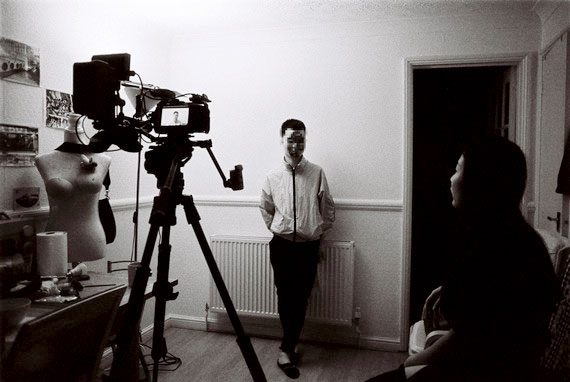 Edwin Mingard is a filmmaker and social practitioner whose award-winning films have garnered the support of The Guardian, Joseph Rowntree Foundation, Doc Society and the British Film Institute. His work has toured the festival and art exhibition circuits including IDFA, London Short Film Festival, Chisenhale Gallery and Aesthetica Art Prize.
Edwin Mingard's screening and workshop is part of Promiscuous Infrastructures, a public seminar series on caring infrastructures and pedagogies of care.
Hosted by the Social Practices research program at WdKA Research Center, the Promiscuous Care Study Group gathers under the aegis of study using individual and collective care practices as sites of inquiry.