Project details
Researchers
Partners

Kunstinstituut Melly 
Kiosk
Journal for Aesthetics & Protest
Reading Room Rotterdam

Project Leader
Duration
September 2021-
Affiliated activities
The Promiscuous Care Study Group emerged from the need to build up learning communities where we might recognize the abundance of working together in difference. Community care involves building relationships based on trust, understanding, and shared commitments while holding contradictory thoughts and feelings simultaneously. Or to quote bell hooks, it entails a form of acting that is "not assigned to the immediate social mythology of the status quo."
According to the London-based "Care Collective," "Promiscuous care means caring more and in ways that remain experimental and extensive by current standards. It means multiplying who we care for and how. Building on historical formations of 'alternative' care giving practices, we need to create the capacity for a more capacious notion of care […] To encourage promiscuous care means building institutions that are both capacious and agile enough to recognise and resource wider forms of care at the level of kinship." (Care Collective: https://www.versobooks.com/blogs/4617-covid-19-pandemic-a-crisis-of-care)
We gather under the aegis of study, which encompasses the research and learning and sharing undertaken outside of the formal educational frameworks within which we work.
Animating Questions:
– Care in the Institution: How to take care of each other and create a web of support? How can the academy cultivate an environment of community care to meet the challenges of our times and to nurture future generations?
– Community agreements, practices of consent: What are the practices of working together in difference within divergent modes of thinking and acting? Are there examples within physical and online communities that we might learn from?
– Generative conflict: How can conflict be generative, and disagreement not mean failure? What are models for caring across differences?
– Practices of communal responsibility and individual accountability: How could accountability, reparations, and healing look in our learning communities?
– Transformative vs. transactional relationships: How can we build up relationships internally and externally that are based on trust, understanding, and shared commitment which honours the space to share in each other's skills, experiences, and knowledges.
– Decoloniality as a practice: How do we engage in rethinking notions of power that do not replicate domination and oppression? How do we use what is already there to find other ways to speak?
– Pedagogy of Attunement: What are the pedagogies of care as learning, deep listening, and tending to? What are the connections between what is inside the classroom and what is outside of the classroom and vice versa? Who takes care of our classrooms when we are not there, who prepares the space and makes our classes possible, but are invisible?
How is care practiced? What are the nuances of care? What are the limits to care? What happens when we do not care?
Activities
-Bi-weekly meetings.
-Activities and particular focus areas will develop according to individual needs and interests, with openness to simultaneously holding contradictory thoughts and feelings.
-Practice workshops on building trust and safety, abolitionist pedagogies, etc.
-Mapping an Etymology of Care.
-Collective writing and transcribing.
-Hosting and guesting (guests can be people, artefacts, texts, artworks, etc.)
-Reading, watching, listening, experiencing, screening, cooking and eating together.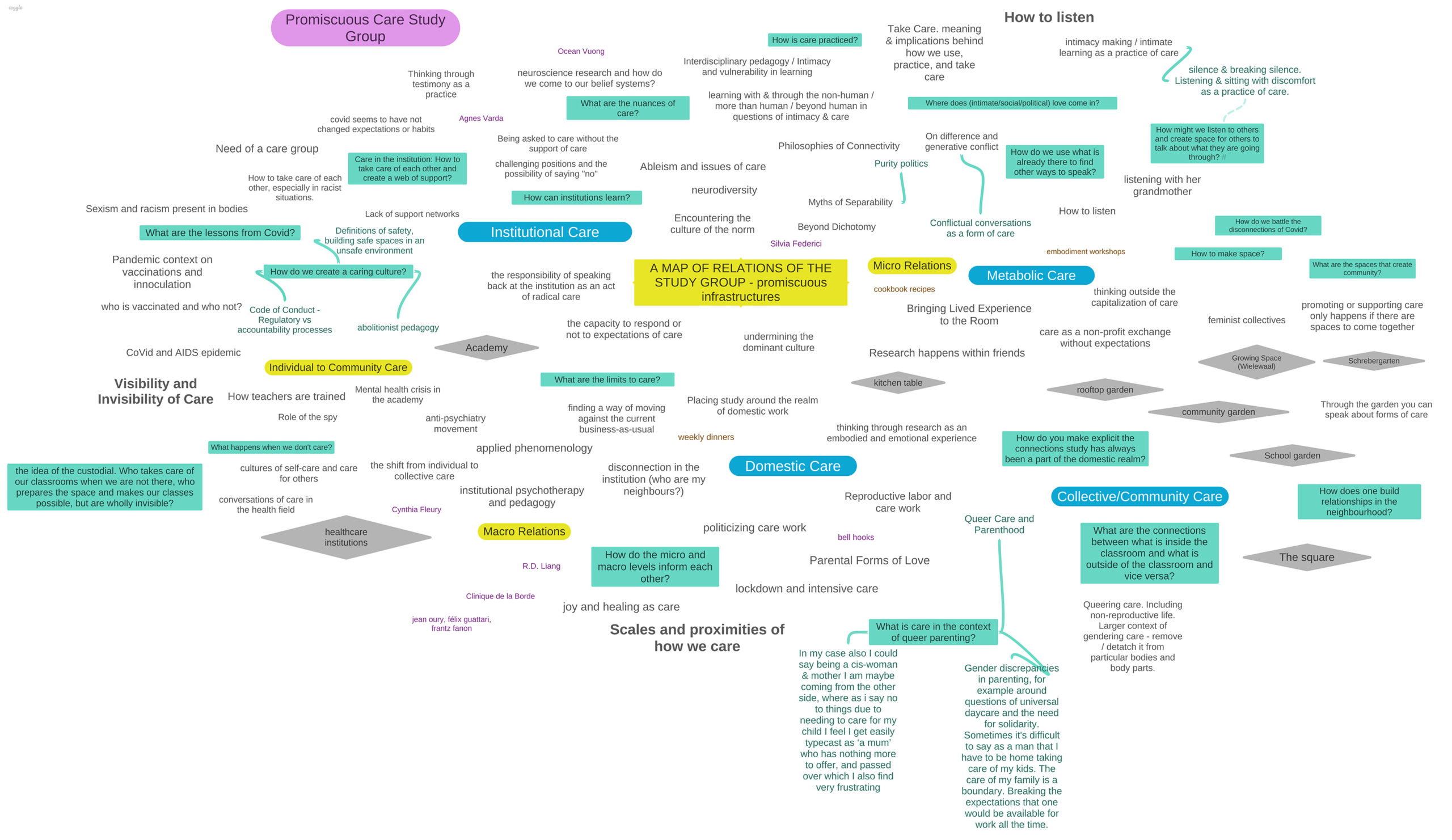 Making Public
Promiscuous Infrastructures Reader (forthcoming)

Promiscuous Infrastructures is a reader comprising essays, visual schematics and scores, personal letters, recipes and conversations around practices of caring infrastructures and promiscuous care. It brings together art and social practitioners, researchers and educators who, in their individual and collective practices, explore the relations between the individual, social and institutional bodies and infrastructures. It begins with the question: How can we reclaim the word 'promiscuous' as an opportunity to transgress and to build networks of support and care within uncaring systems? What infrastructures facilitate promiscuous forms of care?
This reader is structured around a series of texts produced by members of the study group. These are diverse in approach and subject matter, touching on thematics ranging from institutional change to Barzakhian Emergence. Bodies are central to many of these texts, although perhaps not the the types of bodies that are usually centred. Shared thematics manifest in reproductive labours; of cooking, gardening, stitching and weaving. Undervalued or under-represented histories and counter-histories are dug, dredged, reclaimed and examined with care. The precarious, invisible, and the peripheral are explored through witnessing bodies, intimate pedagogies and testimonial forms.

Promiscuous Infrastructures bears witness to an ongoing process of care and coalition building, and offers its readers insight into questions of accountability and practices of resistance. It situates care within a genealogy of social practices and shows how we smuggle sustained and cumulative practices of care into institutional frameworks. Promiscuous Infrastructures includes proposals to facilitate hosting, that acknowledge the invisible and material structures that facilitate working together, and that cultivate a different kind of being together.

Publishers: Research Centre WdKA together with Kiosk (NL) and Journal for Aesthetics & Protest (DE)
Year: 2023
Editors: Promiscuous Care Study Group and Journal for Aesthetics & Protest
Image credit: Yusser Salih, (2021) Intention of Return نية العودة/Relatives of Estrangement گرايب الغربة