| | |
| --- | --- |
| Date | 09/20/2023 |
| Time | 18:00 |
| Location | TENT – Witte de Withstraat 50, 3012 BR Rotterdam |
| Researchers | |
| Affiliated research project | |

The Meal is Language
The Meal is Language and this is a Dinner Party
Conversation for the delusional, for the imaginative, the ones in this world but not of this world.
In a gathering for an open discussion on radical imagination and collective transformation, Lola Olufemi, author of Experiments in Imagining Otherwise, and Feminism, Interrupted, will join Reading Room Rotterdam and The Promiscuous Care Study Group (Research Center WdKA) with attendees in Yusser Salih's Sofreh Daimeh installation.
Wednesday 20th September 2023 18.00 – 20.00
TENT in collaboration with Reading Room Rotterdam
Witte de Withstraat 50, 3012 BR Rotterdam
Limited availability. Register here.

This is a dinner party for the delusional, for the imaginative, the ones in this world but not of this world. We ask ourselves, and now each other: How to work within these structures but not in their destructive logic?
Taking inspiration from Lola Olufemi's work, we will open up a space for thinking otherwise.Otherwise as in, the political horizon awaits, as in the firm embrace of the unknowable, as in refusing the structures that confine while thinking of other ways of existing. Join us and sit down in conversation, as we ask ourselves and each other: What else is possible when we start to imagine another world? Please come hungry with questions and full of wishes. We're here to exchange strategies. Let's cook up the future from our feelings, dreams and wishes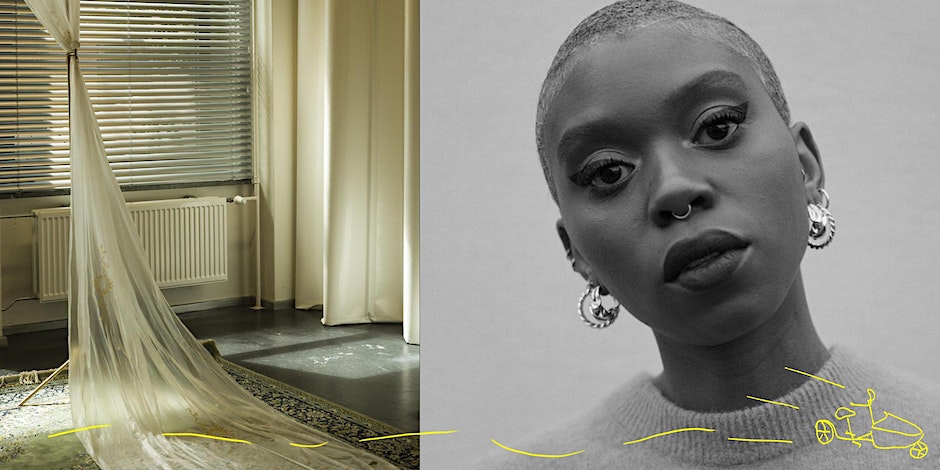 Lola Olufemi is a black feminist writer and CREAM/Stuart Hall Foundation researcher from London. Her work focuses on the uses of the feminist imagination and its relationship to cultural production, political demands and futurity. She is author of Experiments in Imagining Otherwise and Feminism, Interrupted: Disrupting Power and a member of 'bare minimum', an interdisciplinary anti-work arts collective. Sofreh Daimeh, a spatial poem by Yusser Salih is a metaphorical yet real space of hosting otherwise.
Reading Room Rotterdam is a nomadic roaming library traveling throughout the city in a cargo bike. The library functions as a gathering agent for communities to entangle with one another and for knowledge to be disseminated. Through public events and the library service, the RRR offers an exchange of mediums of knowledge, be it through shared dinners, workshops, gardens, or text.

Lola Olufemi's intervention is part of Promiscuous Infrastructures, a public seminar series on caring infrastructures and pedagogies of care. Promiscuous Infrastructures is programmed by the Promiscuous Care Study Group together with external partners Reading Room Rotterdam and TENT.
Hosted by the Social Practices research program at WdKA Research Center, the Promiscuous Care Study Group gathers under the aegis of study using individual and collective care practices as sites of inquiry.