Project details
| | |
| --- | --- |
| Researchers | |
| Partners | Het Nieuwe Instituut, Kunstinstituut Melly, Codarts Archival Consciousness, ArtEZ, Nederlands Instituut voor Beeld en Geluid (for the overcoupling research project ACKnowledge/Artists Community Knowledge) |
| Project Leader | |
| Funding Program | NWO Nationale Wetenschapsagenda, Route Kunst |
| Action | research into new concepts of autonomy and ways of creating it |
| Duration | 1 year, September 2021-August 2022 |
| Affiliated activities | |
Autonomy Lab investigates new ways of understanding and creating autonomy, particularly in multidisciplinary artist collectives and self-organizations in diverse world regions.
Autonomy Lab included workshops with more than a dozen of artist collectives:
Eat Art Collective (Rotterdam, Netherlands)
展銷場 Display Distribute and Autonomous-8 (Hong Kong)
Woodbine Collective (New York, USA)
BananSkolen (Copenhagen, Denmark)
The Bureau of Care (Athens, Greece & Rotterdam, Netherlands)
Amigas (Bogotá, Colombia)
Arahmaiani (Yogyakarta, Indonesia)
CONSTANT (Brussels, Belgium)
Take-A-Way collective (Rotterdam, Netherlands)
Linksinhetnieuws (Amsterdam, Netherlands)
Baan Noorg & OCAC (Nong Pho, Thailand & Taipei, Taiwan)
Wok the Rock (Yogyakarta, Indoensia)
Arts Collaboratory (international)
Jatiwangi art Factory (Jatiwangi, Indonesia)
Varia/Lumbung.space (international)
Uronto Artist Community (Bangladesh)
Autonomy Lab also participated in documenta fifteen (Kassel, Germany, 2022) where it helped running the 'Apamart' of the Indonesian artist collective Jatiwangi art Factory.
Its research findings for the period 2020-2022 have been summarized here and in this mapping: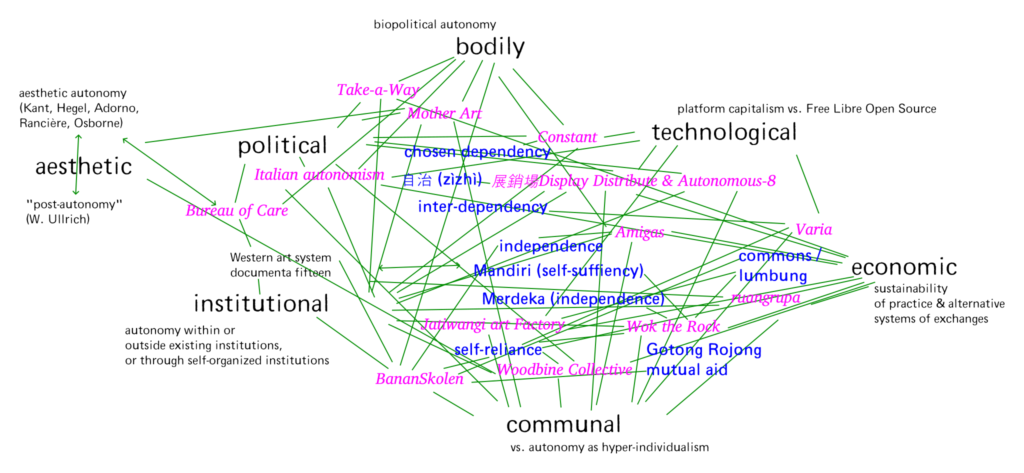 Autonomy Lab is part of the larger NWO research project ACKnowledge (Artists Community Knowledge) that also included the projects How to Read a Library by Archival Consciousness (Mariana Lanari & Remco van Bladel) and the project Crafted by the Netherlands Institute for Sound and Vision.